Contact Roxanne Brand Now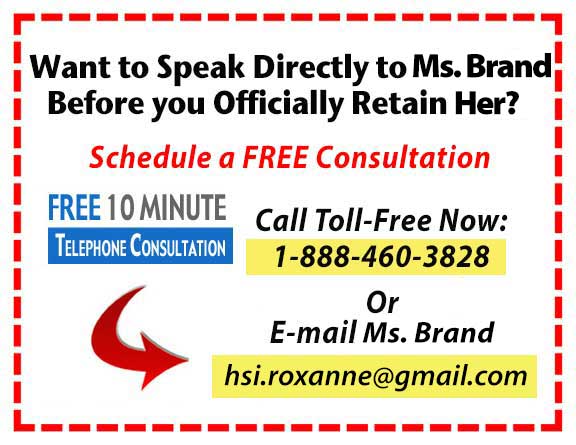 "I used Mrs. Brand's handwriting analysis services and can't recommend her highly enough.  She is a professional and in trial testimony, offers clear and concise explanations in layman's terms as to how she came to her expert opinion.  Her written reports are thorough and well written.  Please do not hesitate to use her for your handwriting analysis needs."
Why We Offer A FREE Pre-Retainer Consultation.
We know you want to feel confident in knowing that Roxanne Brand is the best expert for you to retain and hire for  your case.
A short introductory phone call is normally sufficient to satisfy even the most experienced trial attorney that Roxanne Brand is articulate, competent, and rock-solid on the witness stand. However, most seasoned attorney's know that most cases don't end up needing an expert witness at trial, but everyone knows there is power in a strong written report and a rock-solid CV of a possible expert witness.  If your case needs an expert that is experienced, honest, and has the expert eye to see the facts… please call Roxanne.   She can present her findings in a verbal conversation, written declaration, video presentation, or written forensic report.
Call Roxanne Brand or email your questions today
Speaking to new and current clients are an important part of Ms. Brand's daily schedule. For most clients (including attorneys), a brief conversation with her highly trained and experienced office staff will answer all your questions. If you want to speak to Ms. Brand via phone before you make the decision to submit retainer payment and your documents, that is acceptable and easy to arrange.
Because forming an "official opinion" is both time consuming and legally binding, Ms. Brand rarely reviews any documents at the "pre-retainer" stage of the case. There really isn't such a thing as a preliminary opinion.  It is unprofessional to take a quick "glance" at a complicated case and offer such an opinion. If you have degraded or old documents, she will review them to ensure you have the quantity and quality of documents so a proper examination can be performed.  You are invited to discuss details relating to your case and discuss any unusual circumstances which might be important to disclose.
Ms. Brand has invested years of training in order to have her team answer your questions and work with clients while she is "in court" or "on assignment." Call our office and trust you are in good hands when you are speaking directly to her or her trained staff.
Call our office directly today.
Call Today Toll-Free:
1-888-460-3828
We can testify via Zoom but do a majority of our
cases via email, phone, and fax. No matter where you live,
feel secure in hiring us for your case.
Call Toll Free 1-888-460-3828 
We look forward to speaking with you.